In May this year Romain Lewis was one of the 4,000 faces in the COVID-limited crowd at the Brentford Community Stadium when he was caught on Sky's cameras by chance in the West Stand. He used the image on social media to help celebrate Brentford's extraordinary play-off victory over Bournemouth.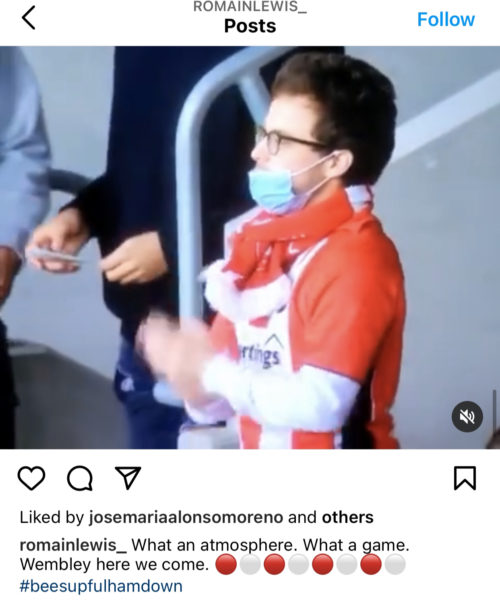 And this is Romain six months later in Las Vegas on his way to winning a World Series of Poker competition wearing the logo of his sponsor and that of the football club he has followed for twenty years. He won a gold bracelet, which is poker's equivalent of a gold medal.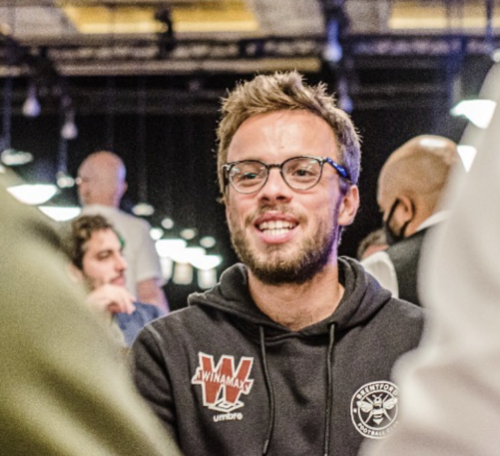 A video on a French poker website shows the moment of victory for what they call the 'Champion Du Monde'.
Romain, 26, has spent much of his life in France but his
 story begins back in England.
"I grew up in Teddington and my dad and grandad would always go to Brentford games and they took me before I can even remember. I think my first game was when my grand-dad took me to Notts County at home back in 2000.The first game I really remember was going to Reading away in 2001 and climbing up some massive steps and thinking 'wow this is football' . Later that season I was at the Millennium Stadium for the defeat in the play-off final against Stoke. I just remember being hooked from that point on. 
"Then came dreadful news for my relationship with Brentford which is when my parents told me we were moving to France. I was nine and I didn't speak French. My mother was French and she had always wanted to go back at some point. But my father told me 'don't worry we are going to keep watching Brentford games. Whenever there is a school holiday or break we will go back to England to see Brentford wherever they are playing'."
In his new home in Bordeaux Romain's Brentford connection was based on the school calendar and the Bees fixture list. "Whenever the list came out each summer I would know that I would get maybe six or seven games, home and away, each year. We just had to accept what the calendar decided. I went to Carlisle for two opening fixtures in a row in 2009 and 2010. As it turned out we went to more places – the Burys, the Rochdales, the Dagenhams – than we would have done if I had stayed in the UK. I loved it."
During his emails to and fro with Bees United from Las Vegas after his victory Romain's encyclopaedic knowledge of the club's recent history and his love for the Bees came flooding out; "the Martin Allen great escape was one of the most exciting end of seasons, had to be said. We even went to Grimsby to see Isiah Rankin score for them and us lose 1-0 in a great atmosphere. I remember losing at Cheltenham five-nil in the rain in the League Cup. Not the fondest memories!! But there were also so many good times with my dad.Some great ones were us winning 2-0 at Southampton in League One, the Darlington away promotion I loved. I was behind the goal for Trotta's penalty and at the final for Yeovil… and Swansea !! So really got so many mixed emotions with this incredible team."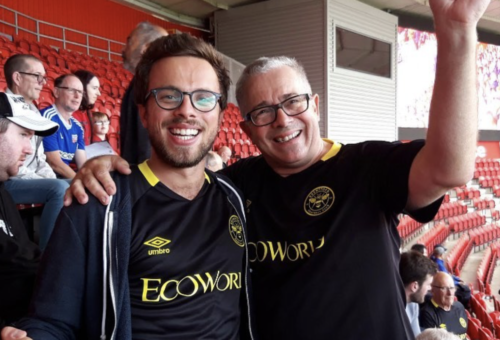 All the time poker has been creeping up as a rival to Brentford.
"When I was about ten or eleven I wanted a playstation for Christmas but my parents got a poker set with a table and chips. I said 'oh, what's this?'. We started playing with the family as a board game. A few years later I started playing for fun at school and by the age of about 18 it had become a bit more serious. 
At 19 I had a big life decision between continuing my studies at business school and going full-time as a professional poker player. That's the moment I chose poker and I've never looked back. I'm one of ten players, mostly across France and Spain, who are sponsored by the Winimax sports betting business. We have some of the best players in Europe and a great team spirit to work around even if it's an individual game"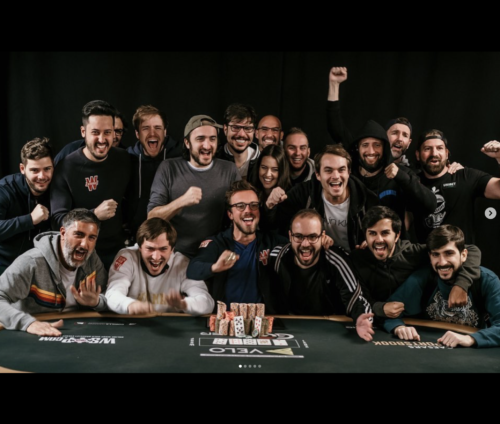 Since 2017 Romain has been based back in the UK, in Wimbledon, balancing his life on the road as a poker pro with his love of Brentford.""Wherever I am I think about Brentford and try to stay in touch with all the team news.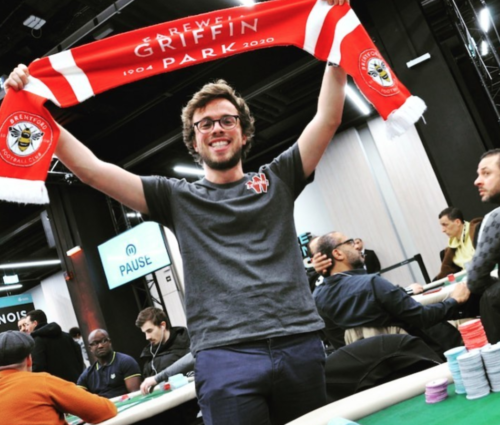 "Before the virus I would normally travel about 6 months a year on top of the World Series to play poker tournaments all around the world. However the European Poker Tour event in Prague has just got cancelled for December. Good news? I can now go to Man United at home."
Romain and his father Stephen try to make good use of their season-tickets in the Upper West Stand and Romain got back to London from Las Vegas in time for the Everton match. "The first home game I missed this season was Liverpool, being there must have been something else. 
Arsenal at home has to be one of my best ever memories with my dad. Looking to the sky and knowing that my grandad was pulling the strings somehow. What a night"