Starting in 1943 13 year old Mike Cabble set off  from his home in Isleworth for Griffin Park with a mission for the rest of the Second World War; to collect as many players' autographs as possible. When he secured the signature of an especially famous player, such as Ted Drake of Arsenal and England, he would record their name in his own immaculately neat handwriting.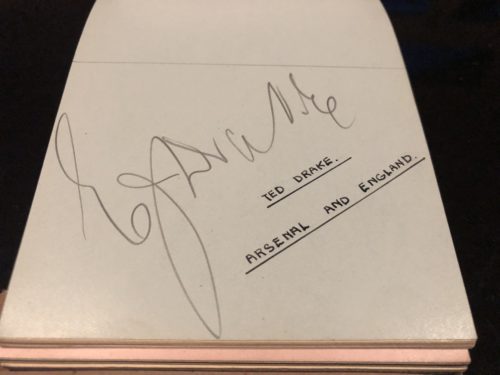 After Mike passed away in 2017 his two autograph books became the proud property of his son .You may know him better as Bees iFollow co-commentator Mick Cabble.
Mick says one of his dad's favourite hunting grounds was South Ealing Station where players would get the tube into London after a game. There were no team coaches in wartime London. "My dad would follow the players out of the ground, continue with the crowds up the road to South Ealing and stand on the platform with the players collecting autographs as they waited for the tube. That's where he got the autograph of the famous winger and England international of his day, Leslie Smith, who was one of his heroes and his favourite player.
"Dad also kept a record of every game he went to and always bought two programmes, one to write on and one to keep clean. He was a keen amateur artist and once sent off beautiful drawings to Disney's cartoon studios hoping for a job. He told me that the wartime years were fascinating times. By 1943 Brentford were well supported and despite air raids over London the Bees played regularly around the capital".
For thirty years Mike and Mick were to experience a story in every part of the country in their own travels with the Bees. Mick says: " When he was aged 78 I took him up to Darlington for the promotion game in League 2 , a day he treasured with three generations of his family, his daughter LIz, granddaughter Siobhan and me, he loved it. I took him to his hundredth league ground. Hereford United, in his 80th year. Then he declared saying he'd visited 100 league grounds watching the Bees it was time to watch just the home games from now on.
"Dad was a Brentford  supporter for 73 years. A lot of people don't have relationships with their father but I was very fortunate because through Brentford I went with him everywhere from Sunderland to Plymouth and Swansea to Norwich. One of my favourite photos captures his face as Brentford beat Preston in 2014 to get promotion to the Championship, he was with my daughter Siobhan".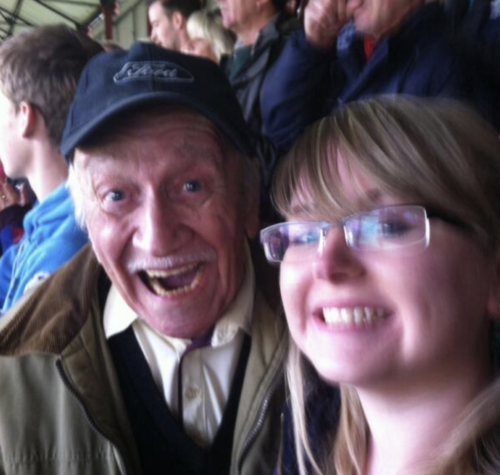 Now Mick himself reckons he's been to about 1,500 games, more than 350 of them away and has co-commentated on over 100 of them.
One of the most interesting names recorded in his father's autograph books is that of Frank Soo who played for Brentford from 1943-45 while serving in the RAF.
It was common during the war for players registered for one club to play as 'a guest' for others, sometimes in areas where they were doing military service. Frank Soo started 26 games for Brentford, one of which was abandoned, ,scoring two goals (against Spurs and Arsenal. He had a Chinese immigrant father and an English mother, was born in Derbyshire, raised in Liverpool and signed for Stoke City at the age of 19 in 1933.
He became the first player of Chinese heritage to appear in the Football League when he made his first team debut against Middlesbrough. Soo made his international debut against Wales in May 1942 which made him the first non-white player to wear an England shirt. But the FA decided they would not recognise wartime international fixtures as 'official' matches.
Bees fan Rob Jex, who has an extensive archive of Brentford match reports, says "Brentford manager Harry Curtis had tried to sign Soo or his fellow Stoke City wing half Jock Kirton in October 1938 when Brentford were bottom of the First Division, but Stoke turned down his 'substantial bid'. I suppose, therefore, that when his RAF posting brought Soo south, it was only natural that Harry Curtis would be interested in securing him as a guest at some point". Rob has found the programme for the 1944 away game at Spurs where Soo is shown as left half . Somebody has written 1 against his name to denote the fact that he scored in the  2-2 draw. The programme advises fans that 'in case of emergency take cover under the stands' .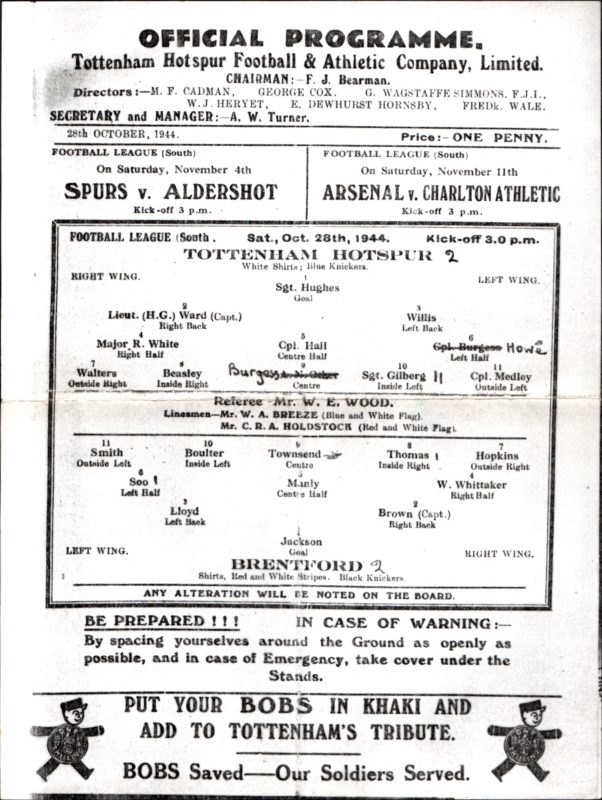 Rob says "The all too rare references to Soo in the reports of his matches are always complimentary: "classy touches", "an artist who knows every move on the board", "the complete artist", and he, along with another Brentford war time guest, Matt Busby, are held up as the top left half backs in the game". Mick Cabble says his father talked of Soo as a 'very popular player'.
According to Rob Jex "There is some debate about whether Frank was the first non-white player to play for Brentford. Some Bees historians feel that it might be either Trinidadian Felix Leotaud, who was on the club's books in the 1890s and later became President of the Trinidad and Tobago FA in the 1930s, or Frederick Corbett, who was born in Essex in 1881 and died in Brentford in 1924, who played for the Bees in the Southern League".
If you have a Bees family heirloom that you'd like to share with fans please email admin@beesunited.org,uk