Frank Hatley had a dream to come to GTech for the first time.
His first time at Griffin Park was in 1937
We learnt about Frankie wanting to meet up, to share his stories but we weren't quite prepared for such a rich memory of all those exciting days long past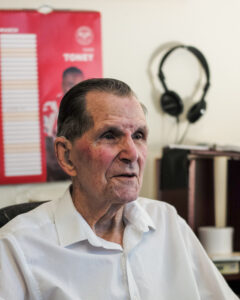 Great idea to bring a camera and Frankie launched into his story from his early days watching the Bees from 1937
He used to cycle from Richmond to Griffin Park in those days and always had to wait to recover his bike from under a huge pile of other bikes!
Frankie was a keen footballer himself.
He shared his tales of soccer in the Egyptian dessert with the pitch marked out with crude oil
Frankie watched the Bees win the War Cup final in 1942 – fans celebrated goals differently then – Frankie's memories of that match are in the video – link below!
It's much better to let Frankie tell his own story!
Please enjoy a wonderful man Watch Frankie here
We left Frankie's hospitality, with big smiles!
He'd prepared a written account of his life.
He included a very special message to Thomas Frank.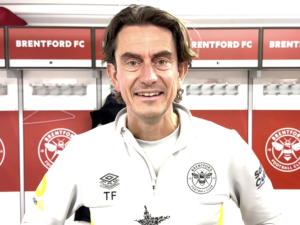 We sent Frankie's letter to Thomas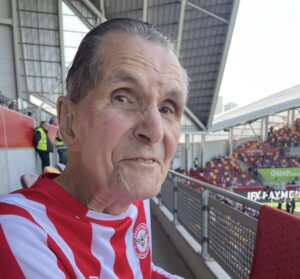 We loved meeting Frankie!
His dream did come true!
He came to watch us beat West Ham!
Come on you Bees of all ages and generations!