9th MONDAY 25TH MAY
EFL statement: COVID-19 test results. #EFL https://t.co/1G6BUI8N5j

— EFL Communications (@EFL_Comms) May 24, 2020
SATURDAY 9TH MAY
🔘 Key moments of his time in charge
🔘 Character in the squad
🔘 Staying in contact with the players

Thomas Frank answered fans' questions on a range of topics over the weekend 👉 https://t.co/zXEhKsgFmV#BrentfordFC pic.twitter.com/apu9h47h0u

— Brentford FC (Stay at 🏡) (@BrentfordFC) May 12, 2020
WEDNESDAY 15TH APRIL
https://twitter.com/BrentfordFC/status/1250364875659935745
https://twitter.com/BrentfordFC/status/1247854355136614400
FRIDAY 3 APRIL
Bees United fully endorses this letter and is proud to be part of a club that combines togetherness, community, innovation and compassion. Special shoutout to @PJansson5 for player leadership. #BrentfordFC https://t.co/fElL6zVCqc

— Bees United (@BeesUnited) April 3, 2020
https://twitter.com/BrentfordFC/status/1246106444107255808
#BrentfordFC Chief Executive Jon Varney, Chairman Cliff Crown and the Board have written an open letter on how we are operating through the Covid-19 pandemichttps://t.co/rYkFkgLUiy

— Brentfordfc (@BrentfordFC) April 3, 2020
TUESDAY 31ST MARCH
https://twitter.com/BrentfordFC/status/1244930352348647424
FRIDAY 27TH MARCH
The latest EFL statement still says no football before 30th April at earliest
EFL statement: Coronavirus update.#EFL https://t.co/7OEwkB5i6s

— EFL Communications (@EFL_Comms) March 27, 2020
THURSDAY 19TH MARCH
Statement from the football authorities:
'The FA, Premier League, EFL and women's professional game, together with the PFA and LMA, understand we are in unprecedented times and our thoughts are with everyone affected by COVID-19. We're united in our commitment to finding ways of resuming the 2019/20 football season and ensuring all domestic and European club league and cup matches are played as soon as it is safe and possible to do so.
'However, our Board has agreed for this limit to be extended indefinitely for the 2019/20 season in relation to professional football. Additionally, we've collectively agreed that the professional game in England will be further postponed until no earlier than Thursday 30 April. The progress of COVID-19 remains unclear and we can reassure everyone the health and welfare of players, staff and supporters are our priority. We will continue to follow Government advice and work collaboratively to keep the situation under review and explore all options available to find ways of resuming the season when the conditions allow.
We would all like to re-emphasise that our thoughts are with everyone affected by COVID-19'.
WEDNESDAY 18TH MARCH
Statement from EFL
'After receiving a detailed brief on a number of matters, the Board reaffirmed that the health and well-being of EFL staff, players, Club employees and supporters would remain central to all decisions in these fast-changing circumstances.
'The EFL Board also acknowledges the positive role that member Clubs are playing in community solidarity, especially in supporting the vulnerable at this time.
'The primary objective, in order to protect competition integrity, is to deliver a successful conclusion to the 2019/20 season, subject to the over-riding priority around health and well-being. Plans continue to be developed on the agreed principle that it is in the best interests of the EFL and Clubs to complete the current season at the appropriate time.
'The EFL is continuing regular dialogue with the Government and relevant health authorities and, as and when more information is known regarding the scale and extent of the coronavirus outbreak in this country, a decision will be taken on the resumption of the League's fixtures.
'Conversations will continue with the EFL's counterparts at the FA, the Premier League, the PFA and the LMA to ensure football achieves a joined-up and collaborative approach.
'As part of the League's continued contingency planning, the Board heard the comments and observations from EFL Clubs, before discussing a number of issues including the current financial position and implications, insurance, regulatory matters and broadcasting arrangements.
'Discussions centred on financial relief for Clubs in the short term and while there is no one single solution, measures are to be put in place to immediately assist with cash flow via a £50million short-term relief package.
'This fund consists of the remaining Basic Award payments being advanced to Clubs immediately, with the remainder made up through interest-free loan facility available to Clubs, calculated in line with the EFL's Article of Associations.
'The cash injection is included as part of a series of measures, that includes potential Government support to help Clubs and their associated businesses through this period of uncertainty. The EFL welcomes last night's announcement made by the Chancellor of the Exchequer, and is continuing discussions to understand how our Clubs can access the funding made available to support businesses.
'In addition, we will continue our discussions with our football partners to determine how we can all get through this difficult, challenging and unprecedented situation.
'The EFL, through a dedicated taskforce, continues to review the threat posed by the coronavirus pandemic, and its impact on our Clubs and competitions.
'Alongside ensuring the 2019/20 season reaches a successful conclusion, protecting the EFL and its Clubs is a key priority for the EFL Board, who have today agreed on the following objectives to support future decision-making:
• Ensure the health and well-being of our Clubs' employees, supporters and communities
• Make a positive contribution to the UK's efforts to tackle coronavirus
• Protect the EFL's financial model and Club finances
• Enable the EFL to continue to function as a business
• Deliver a successful conclusion to the 2019/20 season'
FRIDAY 13TH MARCH
We will be back

Stay safe and look after each other

We have some more memorable moments to create at GP yet#BrentfordFC #FarewellGriffinPark pic.twitter.com/JuCK72uCPr

— Brentfordfc (@BrentfordFC) March 13, 2020
Brentford FC Statement at 15.34
'All at Brentford FC support the decision to halt the Sky Bet Championship season until at least 3 April given the ongoing concerns posed by Covid-19 (aka the Coronavirus).
It was announced this morning that The FA, Premier League, EFL and Barclays FA Women's Super League and FA Women's Championship agreed to postpone the professional game in England for at least three weeks. Our games at Fulham, tonight, and Reading next week have been postponed, as well as the home game against West Bromwich Albion on Tuesday, 17 March.
Thomas Frank, Brentford FC Head Coach, said: "I am sure that our fans share the disappointment of the players and coaches that we cannot take part in our scheduled matches, but this is entirely the right decision. We were all looking forward to a big week of football but the health of everyone must come first. We have a social responsibility to ensure we do what we can to limit the spread of the virus and not playing matches is a way to do that.
"Denmark shut down their football earlier this week and I am thinking about my family and friends over there. We have players from all around the world and they have their concerns as well. The health of everyone is all that really matters at this point. Football is our lives, but we can all stop for a bit.
"The players always appreciate the following we get away from home and I know it would have been great at these two games. It gives us a great boost to see Brentford fans when we come out at away grounds. We look forward to seeing them at our next game, whenever that will be. The players and staff will be ready whenever we resume, we have nine very important games to come and dreams we want to achieve. We will see you all soon."
Jon Varney, Brentford FC Chief Executive, said: "All Bees fans want to watch our matches and get behind our team but that has to take a back seat at times like this. All here support this was the right decision as everyone is focussed on maintaining the health of everyone in the country and beyond. The steps we have taken recently have helped us stop the spread, but a full shutdown seemed the only option at this stage.
"It is devastating that, at a time we should be looking forward to an exciting run-in, we are dealing with a global health issue but we, as a club, are not alone. Postponements for any reason are disappointing but we will be ready to host games when the league resumes and are still looking forward to saying Farewell Griffin Park in the coming months. I am sure there are some memorable moments to come. As soon as we have clarity on the rest of the season, we will update fans on our plans.
"The Club will, in most other areas, be continuing as normal. We have stopped selling tickets for the game at Reading until we know when it will be played and there may be changes to our season ticket migration process that we will update supporters on in the coming days. Please, take all precautions to stay healthy and we hope to see you soon."
https://www.brentfordfc.com/news/2020/march/brentford-fc-covid-19-update-pm-13.03.20/
EFL Statement
'The FA, Premier League, EFL and Barclays FA Women's Super League and FA Women's Championship have collectively agreed to postpone the professional game in England until 3 April at the earliest.This action, which will be kept under constant review, has been taken due to the increasing numbers of Clubs taking steps to isolate their players and staff because of the COVID-19 virus. The postponements include all matches in the Championship, League One and League Two, as well as all Academy and youth team fixtures. In addition, Clubs are being advised to suspend indefinitely all non-essential activities which include, but are not limited to, player appearances, training ground visits and fan meetings.Whilst the EFL Board has continued to take the advice and guidance offered by the Government and its health advisors, emerging developments mean now is the time to implement football's contingency plans in response to the crisis.A further update on these plans will be given post an EFL Board Meeting next week. This decision has not been taken lightly, but the EFL must prioritise the health and well-being of players, staff and supporters while also acknowledging the Government's national efforts in tackling this outbreak'.
https://twitter.com/BrentfordFC/status/1238420171204820996
9.30 BBC Sport reports;
'The Premier League will hold "an emergency club meeting" on Friday to discuss future fixtures. BBC Sport understands one possible outcome is that the league is suspended for two weekends until the scheduled international break later this month, but abandonment of the season is unlikely at this stage. All clubs must be in agreement for any action to be taken and government officials are also being kept informed.The EFL's board is meeting on Friday to make a decision on this weekend's fixtures and beyond, and is likely to follow the Premier League's decision'.
9.15: There has been no further statement from the EFL since last night but the Daily Mail website reports:  'The EFL said on Friday morning: 'The EFL Board will meet this morning to make a decision on this weekend's fixtures and beyond.'
The Premier League will convene an emergency club meeting tomorrow morning regarding fixtures after Mikel Arteta tested positive for COVID-19

Statement: https://t.co/ofi5DhIQZM pic.twitter.com/RmnxRHXooz

— Premier League (@premierleague) March 12, 2020
THURSDAY 12TH MARCH
Brentford post a full update which confirms that currently no players are suffering any symptoms or in self-isolation.
https://twitter.com/BrentfordFC/status/1238202211781562369
Earlier an EFL statement confirmed that 'matches will continue to take place as normal'
Prime Minister Boris Johnson announces a range of new measures but does NOT announce a ban on major public  gatherings although he makes it clear that this is still being considered as a possible future next step. So the Fulham v Brentford game goes ahead with a crowd.
BBC News reports: Prime Minister Boris Johnson says it is time to move to the next stage of planning."The most dangerous period is not now, but some weeks away, depending how far it spreads," he says.However, new measures are going to be in place.They include:
Staying at home for seven days if you have, however mild, a new continuous cough or higher temperature
Advise all those over-70s not to go on cruises
Advise against international school trips
Mr Johnson says they are only "considering the question of banning major events, including sporting fixtures" – not because of the spread of the virus, but because of the burden it puts on public services. He also says schools should remain open.
Thomas Frank says; 'First of all I hope that in the world that we will control this virus ,we know the Government here in England are doing everything they can to take decisions to try to slow it down it down, just get on top of this. So I hope that its going to be sorted out as quickly as possible so that everything can go back to normality and we don't have to think too much about it, what can change in our daily lives, what can change in the next couple of weeks but I think the most important thing is the social responsibility everybody has in terms of sorting this out. So of course I think about it, what will change, how will it affect the daily work. I'm from Denmark and they just shut down more or less everything in the last 12 hours some course I'm thinking about my family and friends over there. But I think, I'm pretty sure all of us will sort it out.
He's asked if he was surprised the UK Government hadn't yet decided to order games to be behind closed doors he says: 'No I think all countries are different and don't know too much but I know there's green zone, yellow zone, red zones and we are still in quite a good place and I trust 100% they will take the right decision and we will follow the consequence of that'.
Asked about any effect on training he says; "Of course this coronavirus stands out as the talk of the town for natural reasons but normally it could be everything else that affected me or the players, personal issue or whatever but its all about doing our best to focus on daily work, preparing for the game, train well, make a good plan for tomorrow and hopefully play a top game'.
Brentford has  been holding its weekly press conference as usual.
https://twitter.com/BrentfordFC/status/1238118671790288896
THURSDAY 12TH MARCH -UPDATE AT 3PM
The Government meeting has now finished and it is expected that the outcome will be announced in the next few hours.
 THURSDAY 12TH MARCH -UPDATE AT 2PM
The Government Committee which will decide, among other things, if and when to restrict the size of public gatherings (e.g football crowds) started meeting at 1.30pm
UEFA calls meeting for next week about 'all domestic and European competitions, including UEFA EURO 2020'.
Earlier a spokesman was quoted by goal.com as saying: "There is no reason to change anything in the time schedule. UEFA is in contact with the relevant international and local authorities regarding the coronavirus and its development."
Brentford will be holding its normal weekly press conference at lunchtime today when Head Coach Thomas Frank will look ahead to the scheduled game against Fulham on Friday evening. The event will be held in the media section of the Jersey Road training ground which is away from where the players are based. The training ground is 'currently closed to all non-essential visitors'.
The BBC reports 'Prime Minister Boris Johnson is expected to sign off plans to move from the "containment" phase of the outbreak to "delay" at the emergency Cobra meeting later'. It also reports 'Delay is where "social distancing" measures will be considered – which could include restrictions on public gatherings above a certain number of people, although this is not thought likely at this stage'.
Brentford commentator Mark Burridge looks at some of the options for football administrators:
'So what will happen with football between now and the end of this season?
Will Euro 2020 be moved to next year, which seems a possibility.
Matches behind closed doors following the rest of Europe? No doubt this will mean broadcasts of matches to homes, that will take some organising but no doubt the EFL and TV companies will have covered this option in crisis meetings.
Or do they just postpone the season by day, 3-4 weeks and we have new dates for our games? Play off final mid June?
We are likely to find out by the weekend I would guess'.
Brentford Community Sports Trust makes a statement about the impact on its work.
https://twitter.com/BrentfordFCCST/status/1238023853739302912
The Times reports that 'all football matches in England will be played behind closed doors under government plans to combat coronavirus that could be triggered as early as today'.
SATURDAY 7TH MARCH 1200.
Brentford CEO Jon Varney speaks to the BU AGM about coronavirus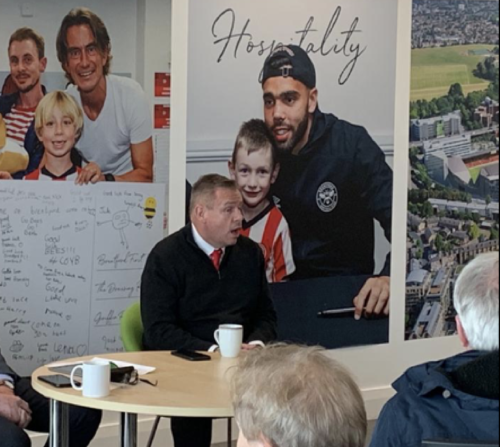 On Saturday 7th March the Chief Executive of Brentford FC, Jon Varney, was the guest of Bees United at our Annual General Meeting held for the first time in the club's new offices. Jon was asked about the impact of the Coronavirus  so far. This is a transcript of that section of his Q and A with Bees United members.
JV: 'This is something that  is occupying a huge amount of our time.So yesterday (Friday 6th March) I called a meeting of our Senior Leadership Team along with some legal support to start to discuss what we do with immediate effect and the output of our meeting is those changes we have made today. I think the most significant thing that we've looked at is locking down Jersey Road (Brentford's training centre). No non-essential users at Jersey Road at all, we've got to make sure that environment is protected as much as we possibly can.So it is a fluid situation, we have to wait for Government initiatives, we then want to see what the EFL are going to do and then we have to react accordingly. It is a very concerning time.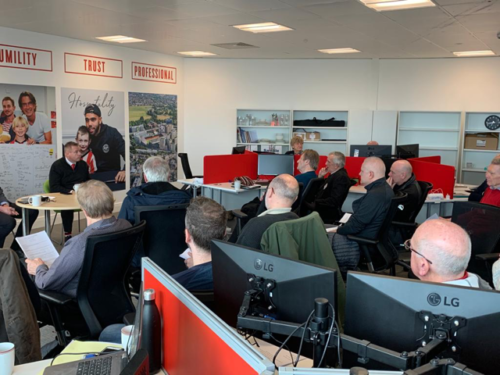 BU Member :'My question is given the unfortunate event with the coronavirus and if it escalates, with the business model at Brentford can it sustain if the EFL turn round and say 'you can have your matches but without your supporters'? Is there any contingency planning going on or is it business as usual?
JV; 'It is a live situation .I think that from a business model perspective I wouldn't be concerned about that because this football club doesn't survive on gate receipts, and it doesn't survive on the EFL  money.This football club survives on Matthew Benham and our player trading. If the game of football continues , whether it is behind closed doors or in front of people and we all pray and hope that it is in front of people, players will get traded. So from a pure business perspective I wouldn't be concerned. Are we absolutely focused on making sure that we do everything right around coronavirus, 100% yes. I think we are in an incredibly unique situation that we are saying Farewell to Griffin Park. It would be horrific if our last game against Barnsley at Griffin Park was behind closed doors. We all feel that pain but we just don't know at the moment and we have to keep a watching brief on what's coming out of Government…It is not within Brentford's gift to decide what they do in this situation.
Stewart Purvis (Chair of BU) John, I suppose the thing we should take away from that is that we should savour every one of these last games because there is this uncertainty .
FRIDAY 6TH MARCH
Brentford FC issues a statement ahead of the match against Sheffield Wednesday
https://twitter.com/BrentfordFC/status/1235957743514722305