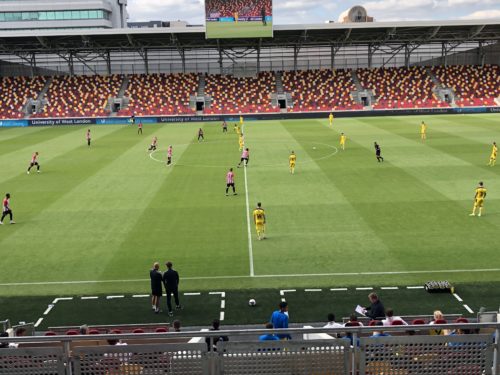 At 3.00 pm on Tuesday 1st September 2020, a mere 18 years after Bees fans began campaigning for a new stadium in Brentford, their wishes came true. The project had survived years of political and planning battles, financing and refinancing plus a global crash and a global pandemic. But coronavirus meant that thousands of fans who might have expected to be in the Brentford Community Stadium on this day weren't able to witness the first match. Instead some of them watched a live stream on their phones or laptops.
However one rather important supporter was there. The club's owner, Matthew Benham, who has funded the project, visited for the first time and told colleagues he was pleased with what his investment had created. This opening game was not quite what was planned before the 'COVID protocols' came into force. It was meant to be against a high profile club from the Premiership or the German Bundesliga. Instead the circumstances dictated it was a friendly with Oxford United of League One. 
But for those of us privileged to be in the new main stand the occasion was still very special. How we wished that others could be with us, especially campaigners like Paul Stedman and Luke Kirton plus Bees United's own stalwarts Brian Burgess and Chris Gammon who played such a crucial role in developing the project. Hopefully the day will come when these and other key people can be properly acknowledged. (Their story is told in a forthcoming BU book, to get a copy join Bees United here )
The opening game was a useful preparation for those players available for the Carabao Cup on Sunday against Wycombe. Those on international duty will return in time for the first league games. Hopefully joining them at Birmingham on 12th September will be David Raya, still recovering from a knock.
Sergi Canos, fully recovered from the injury that kept him out for much of last season, turned this game into Sergi's story. Alongside him was record signing Ivan Toney on his first full day as a Brentford player and he had chances during his 45 minutes to became the first Brentford scorer at the new stadium. But Sergi also had his eyes on that prize. Early on he shot just wide and in the second half when he was brought down in the box he stepped forward to take the penalty. Unfortunately his shot was saved but he was undaunted.His first goal came when he timed his run perfectly to beat the offside trap, the second was when he surprised Oxford keeper Simon Eastwood with a snap shot into the left hand corner of the net.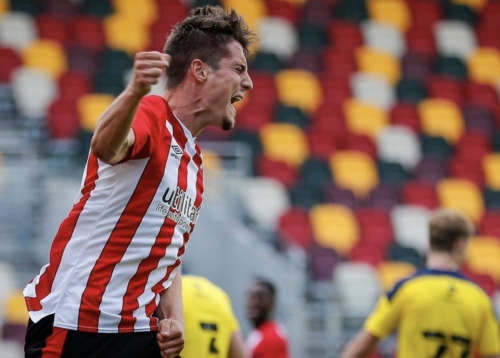 With boundless energy Sergi lasted the whole 90 minutes as all around him colleagues were subbed, a total of 18 players got some time on the wonderful playing surface. One particular turning point was when Mathias Jensen finished his stint maximising his impact midfield in the absence of Christian Norgaard who announced earlier in the day he had signed a four year contact with the Bees. Things started to go wonky at the back and Oxford got two goals through Derick Osei against what had become a very inexperienced Bees defence. The game ended 2-2.
In truth this was a case of 'never mind the score, feel the stadium', if you were lucky enough to be there. For everybody else the news from the main (south) stand is that this is a perfect place to watch football, the pitch is close and perfect, the elevation of the rows of seats is pitched just right. We should await future reports from points north, west and east. Your old favourites are all here; Peter Gilham, 'Hey Jude' and a London Pride sign suggests the Fullers connection which goes back to the founding of Griffin Park will continue in this new setting. What to look forward to compared to GP? Better toilets of course, more comfortable seats (we'll never all agree on the colour of them) and probably easier access to food although there was none available at this game. What we can't tell yet is how the atmosphere will compare. My own hunch, and it's not any more informed than that, is that the noise will be contained within the stadium and not flood over the top of the small north stand towards the M4.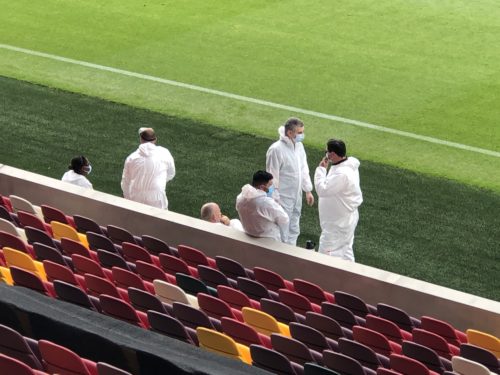 At the end of this particular game men in white suits and white masks moved in to make everything safe. Here's to the time when they're not needed and Bees fans can finally enjoy the stadium they have waited so long for.
Brentford 2 Oxford United 2
Brentford: Daniels (sub Balcombe); Henry (Hammar), Goode, Pinnock (O'Connor), Thompson; Žambůrek, Jensen (Maghoma), Baptiste (Marcondes); Canós, Toney (Forss), Fosu (Valencia)
Oxford United: Eastwood (Stevens); Long, Mousinho (Lofthouse), Atkinson, Ruffels (Taylor); Henry (Brannagan), Kelly (Gorrin), Sykes (Napa); Hall (Clare), Agyei (Osei 74), Forde (McGuane)