Even when the gap between the two Championship leaders and the chasers Brentford was eleven points, there were firm believers inside the Bees camp, especially Co-Directors of Football Phil Giles and Rasmus Ankersen. Their team could hunt down Leeds or West Brom, or maybe even both, and in the event of drawing level on points Brentford's amazing goal difference could come into play. When the season restarted it would need extraordinary consistency over the remaining nine matches and there would have to be days when the Bees took all the points and a leader dropped some. This was to be one of those days and after six successive victories since the restart -seven in all- who is to say there can't be at least one more day like this in the remaining three matches.
As a result of their evidence-based optimism the landmark of securing a play off place seems a side issue, something we'd almost taken for granted. Hopefully it won't be needed because our target, our obsession, is an automatic promotion slot that removes the casino of the play-offs. When we reached the play-offs in our first season in the Championship in 2014-15 it was an achievement that justified celebrations in its own right. Those of us who stood in the away end in the second leg at Middlesbrough will accept we were a long way short of Premier League status that night. Now this feels very different, Brentford have earned the right to be taken seriously as contenders for automatic promotion to the most successful league in the world. No 'little old Brentford' now.
The game at Derby will best be remembered for one of Brentford's goals of the season but a goal scored later in the day further north on a ground Brentford rarely win at turned out to be equally important. First that Bees goal. In these strange COVID days there were just ten spectators watching in that corner of Pride Park, nine jubilant Brentford officials and one worried-looking scout from our next opponents, Preston. And how the nine's cheers echoed round the ground- 'great noise from the boardroom again' tweeted Head of Recruitment Lee Dykes- cheers that were even louder than they had been just fifteen minutes before when Said Benrahma got his first goal. That one came when he shot from the left directly right at County keeper Ben Hamer- remember him from seasons past at loan at Griffin Park? – but Hamer managed to fumble the ball enough for it to roll over the goal line. However Said's second was 100% credit  to 'the Algerian Messi', how often do you see a goal scored by a player while running sideways away from goal? A nice pass from Emiliano Marcondes set up Said on the left facing two players. He drove infield leaving them trailing enough in his wake to give him the space to select one target spot in the far corner where he could curve a shot into the net. As Said duly did, Derby's Wayne Rooney – no stranger to great goals himself- watched in astonishment. The Brentford nine rose in salute and Said saluted back after his sixth goal in three games. For five full minutes the Derby scoreboard resolutely failed to acknowledge a goal had been scored before finally bowing to the inevitable.
Brentford had gone into the game with one more day's recovery from the midweek matches than Derby, but County had two players back from suspension. Tom Lawrence had served his three game ban and Louie Sibley never started his because it was rescinded. For the Bees, Marcondes replaced Mathias Jensen in the starting line-up and Mads Roerslev, substituted at half-time after a difficult first half against Charlton, was given another chance to stand in for Henrik Dalsgaard.
Derby had been weak bordering on feeble in their game against WBA earlier in the week but they made a much stronger start this time, with 34 year old Rooney inevitably the prompter rather than the executioner. It came to nothing when after only 3 minutes some inter-play on the left between Josh Da Silva and Benrahma set up Bryan Mbeumo for a shot at goal that hit the post and fell into the path of Ollie Watkins. The Brentford striker put it away to take his tally to 24 Championship goals and 3 assists, that's the same goals but 2 assists more than Aleksander Mitrovic who scored the previous evening for Fulham. Bryan Mbeumo almost got a second but it was headed clear by the Derby defence.
At the other end the Rams tried taking the battle head-on against the Bees two central defenders, but Rooney, realising the height advantage of Pontus Jansson and Ethan Pinnock over his strikers, kept the ball on the ground and from one such attack Derby equalised through Jason Knight. One-all at halftime with the stats suggesting that was a fair score. But Brentford's standards are now so high that Thomas Frank said afterwards the first half had been the worst half of the six games since the restart.
The second half was changed by those two Benrahma goals and though Rooney continued to threaten with corners and free kicks David Raya was untroubled. Said was, of course, the man of the match but a special commendation for Rico Henry who so often gets overlooked in these awards. Today he was superb even after Knight gave him a kick in the leg with an impact that could be heard around the mostly silent ground. Fluent in attack, efficient in defence, Rico seemed a touch disappointed to have been subbed for the final few minutes to give Dominic Thompson an outing. If there'd been a crowd in the stadium he would have got a standing ovation from Bees fans.
At the end the players went over to the far corner of the ground where the Brentford boardroom delegation were camped out on a distant balcony and a delighted Pontus gave the post-match interview to Sky beaming with confidence about what comes next.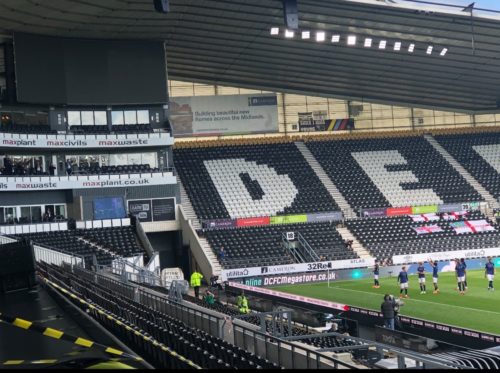 Within minutes everybody's attention turned to what was about to happen up at Ewood Park and those driving south tuned their radios to Talk Sport 2 for live coverage of West Brom's visit to Blackburn. After the Baggies dominated the first-half and went in one-nil up, those of us who'd given up four hours during the week watching and waiting unsuccessfully for the two league leaders to drop points probably assumed there was more of the same to come. But Blackburn manager Tony Mowbray did something he could only do under the special rules of this re-started season, make four substitutes at once. An immediate dividend was paid when Joe Rothwell scored. On the radio co-commentator Micky Gray acknowledged this would be especially good news for the Brentford party heading home. Blackburn had another chance to boost their own play-off hopes and Brentford's bolder ambitions when mid-fielder Jacob Davenport went through through one on one with the WBA keeper but managed to shoot straight at Sam Johnstone.West Brom battled for their own winner but Blackburn held out.
When it comes to pitch side images of the day that tell a story, compare a desperate WBA's Slaven Bilic wrestling with a Blackburn player to get the ball back with Thomas Frank laughing and joking with Said Benrahma.
Three matches remain for Brentford in the regular season; Preston at home, Stoke away and then Barnsley at home with the very real possibility that Brentford's last scheduled match at Griffin Park could be the one that decides if we go to the Premier League or face the play-offs with one more 'Farewell to Griffin Park', hopefully in a second leg.
By the time Preston, still in with a chance of that fourth play-off spot despite dropping points against Forest, come to Brentford on Wednesday West Brom will have played Fulham. Who knows, they might have dropped points again.That Bees dream is still alive.
Derby County: Hamer; Bogle, Clarke, Evans, Lowe; Rooney, Bird (sub Forsyth ); Knight (Jozefzoon) , Sibley (Whittaker ), Lawrence; Martin
Brentford: Raya; Roerslev, Jansson, Pinnock, Henry (Thompson); Marcondes, Nørgaard (Jensen ), Dasilva ( Žambůrek ); Mbeumo (Valencia ), Watkins, Benrahma (Fosu)