The clock is now ticking on the move to convert Griffin Park into a residential development with much of our wonderful old stadium now razed to the ground leaving us just with our memories – vivid though they are.
With a mixture of resigned pride tinged with sadness I therefore thought that now was the time to reflect upon Griffin Park, our spiritual home for 116 years since 1904, and the scene of so many milestones, triumphs and disasters in the club's long and chequered history.
It is hard to accept and acknowledge but we all know that progress is inevitable and that we had totally outgrown Griffin Park and its dishevelled and dilapidated facilities.
Given our growth and on field success we needed the extra room to accommodate the new wave of supporters that could not fit into Griffin Park, and we had been hamstrung by the lack of corporate facilities which resulted in our commercial revenue being seriously restricted and us therefore competing on an uneven playing field.
The move to a seventeen and a half thousand capacity all-seater stadium has enabled us to compete on a slightly more even keel with the remainder of the Premier League teams who currently dwarf us in terms of their average attendances, facilities and overall income potential.
Thankfully, Lionel Road has already proved to be the answer to all our hopes and dreams and, most crucially, we are rapidly developing a team whose esprit de corps and joyful and incisive football is so successful and easy on the eye that we could well need to look to improve its capacity over the next few years – although given the constraints of the new site this could prove to be a pipedream.
That is for the future and Griffin Park remains the recent past.
I went there for far more years than I really care to remember – indeed it is early 1965 when my Dad took me there for the first time to see us thrash Queens Park Rangers by five goals to two.
Given that I have been watching Brentford regularly since 1966, save for three years spent in New York, when even then I managed a couple of visits per season, I would estimate that I went to well over 1,250 matches at Griffin Park, and the ground has played an integral and important part in my life.
Even the journey became part of the ritual. Should I chance taking the North Circular to Hangar Lane and risk getting snarled up in traffic chaos around Brent Cross or Park Royal?
Would it be better to take the back doubles through Willesden and Acton? Much less direct but generally free from congestion until the inevitable and dreaded log-jam in Tubbs Road near Willesden Junction.
Swings and roundabouts, as on a good day I could get to the ground in twenty-five minutes, but on a bad one, the journey could seem interminable and I well remember unforgivably almost missing a local derby with QPR one Friday night in 2015 when the North Circular was snarled up with traffic which necessitated a hair-raising detour through the back streets of Brent before I finally arrived hyperventilating and gasping with relief just as the teams came out
Even coming home could be fraught with peril particularly when Transport for London arbitrarily decided to close the Brent Cross flyover without the courtesy of providing any advance notice to us unsuspecting drivers.
There is nothing worse or more annoying and frustrating than getting caught in an unexpected traffic jam at ten o'clock at night, particularly after a home defeat.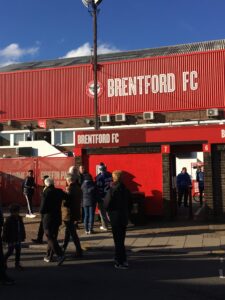 Even when I get there I still had to decide where to park.There was a time when I could roll up with impunity at a quarter to three and find a space without any trouble within sight of the turnstiles. After promotion to the Championship, with five figure sold out crowds the rule rather than the exception, you needed to arrive a good hour and a half before kick-off if you expected to park in the same postcode as the ground.
And no, I am not going to let slip where I still generally managed to find a convenient parking spot before most matches.I never failed to get an anticipatory feeling of excitement whenever I turned the corner into Braemar Road. Going to Griffin Park was just like being back at home. I felt safe and happy there and it became a major part of the fabric of my life.
I have laughed and cried there, smiled and frowned, cheered and jeered, made long-lasting friendships, vowed never to return and yet found myself steering a path back there a fortnight later.
Griffin Park is seared into my soul, as are the memories, sweet and sour, of matches long since passed, of players good, bad, indifferent, and now, maybe even great!
I have calculated that over the course of the past fifty-five years I have spent well over one hundred days of my life in and around the stadium, firstly anticipating the match about to begin, then moaning, groaning, criticising, encouraging, celebrating and commiserating during the course of every match and finally rejoicing or mourning on the walk back to the car, a mere skip and a jump away when celebrating victory, an interminable trudge following a defeat.
This article is about the stadium itself rather than simply supporting the club, and yet the two are inextricably intertwined.
For a few unfortunate years a decade or so ago, I was inveigled into buying two season tickets for Arsenal as a means of entertaining some clients and contacts of mine.
God forbid that I tried to entice them into attending a match at Griffin Park, the Bees were then in the nether regions of the Third Division and it was a hard, if not impossible task to sweet talk business contacts into watching them.
To be candid, I also wanted my company to be seen as a Premier League outfit rather than as a third rater.
Given the vagaries of the Premier League fixture list there were surprisingly few fixture clashes between the two clubs, as they existed in totally different stratospheres, and I was rarely faced with the difficult decision about whether to watch Arsenal or Brentford.
I enjoyed visiting both Highbury and The Emirates Stadium as there was always a sense of occasion, and the lush, padded leather seats at Highbury found great favour with my son, but the atmosphere at both grounds was always sterile and could not compare in any shape or form with the febrile excitement of a packed Griffin Park.
Whilst I wanted Arsenal to win, in truth I didn't really care about the result, matches never stirred my emotion as they did at Griffin Park, and I certainly never lost any sleep or gave a second thought should they lose, something that has happened on many occasions after a Brentford catastrophe.
Over the years I changed my allegiance from D Block in Braemar Road, to the Paddock, to Ealing Road, then to New Road and finally back to Braemar Road.
Each area has its own individual characteristic and identity however I made my decision to return to where I started given it provided the best and most complete overall view of the pitch, had the Programme Shop close to hand and enabled me to kibitz and gossip with all and sundry.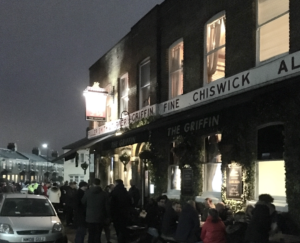 When Griffin Park dies, so will die a small part of me, as I am sure it will for most of you too.
I will end with a few brief highlights of my visits to Griffin Park which immediately spring to mind. These are mine and I am sure that you will all have your own, so please feel free to reminisce.
Having a prematch drink in The Griffin or a meal in The Weir
Seeing the Griffin Park floodlights for the first time when driving down Ealing Road never failed to excite and re-energise me
Griffin Park itself. It was old and obsolete but it made my heart sing every time I went through the Braemar Road turnstiles
Evening matches under the floodlights at Griffin Park – pure magic
The Ealing Road Terrace – a wonderful anachronism
It's All Your Fault! being sung at opposition goalkeepers who often shrivelled under the verbal pressure
Greville Waterman – Commissioning Editor